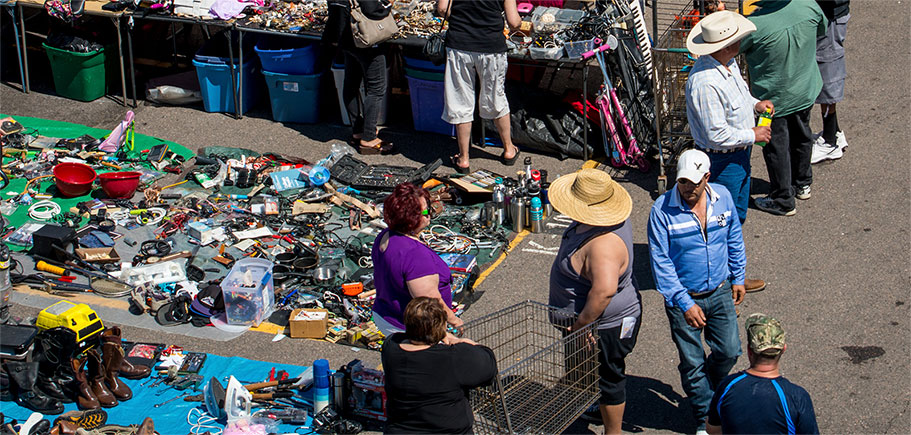 Shops: These colored stand-alone retail buildings, clustered close to the main (South) entrance, sell a wide variety of discounted new and gently used items, from sunglasses to luggage. This area also includes specialty antique and collectibles shops.
Flea market: Each weekend, our huge flea market is staged toward the east end of the facility. Here some 2,500 sellers set up temporary tables and open rented storage units to display items at always-incredible prices. The flea market is also adjacent to the popular year-round farmers market.
So what can you buy at Mile High Flea Market? Discovering is part of the fun, but you can always count on new and used gear, clothing and goods for the whole family:
Furniture & mattresses
Baby gear & goods
Cosmetics & health/beauty items
Groceries & household supplies
Accessories: sunglasses, purses, belts, footwear, watches, jewelry & more!
Cell phones & accessories
Electronics, games & videos
Tires, auto parts & car-audio accessories
Knives, boots & leather goods
Sports apparel, equipment & cards
To refuel during a full day of shopping, Mile High Flea Market offers plenty of food and beverages: beer carts, sit-down cafés, quick-food vendors, a coffee shop, cantina, and a wings-and-pizza parlor, to name few.