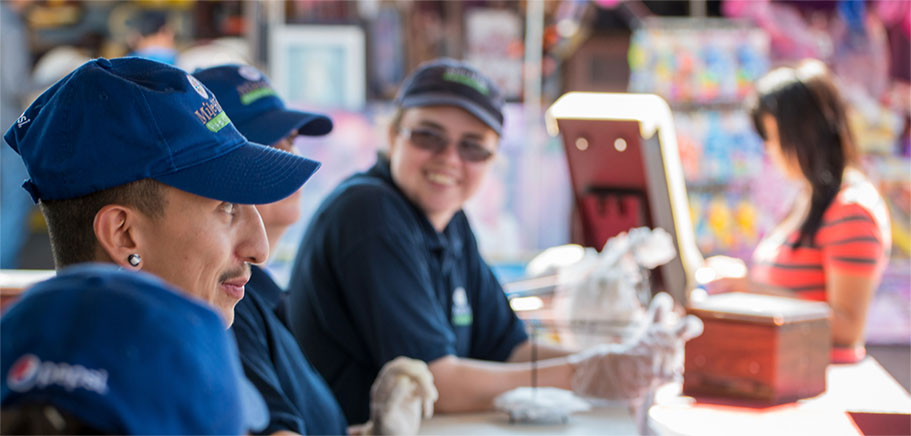 Eat your way through the flea market.
There is something for everyone's taste buds to enjoy at the flea market! There's a food cart, restaurant or quick-casual stand around nearly every corner at Mile High Flea Market. In fact some 50 cash registers are ringing up food and beverage purchases here, from morning until night, every weekend, all year long.
The Marketplace Grill is the prime spot for eggs and bacon, or a hearty smothered burrito to hold you until lunchtime. If it's coffee you're craving in the morning, All Hyped Up coffee shop steams up a morning wake-up call to focus visitors for the big bargain hunts ahead.
Snacks are plentiful at Mile High Flea Market, and they typically come from market carts and stands throughout the grounds. These quick, walk-up eateries are an easy way to purchase handheld foods, allowing visitors to walk and shop while still getting some nourishment. By far the preferred snack (or meal!) is the flea market's famous turkey legs. There's just nothing like them in Denver. Other savory snack items around the flea market include hot-buttered whole-ear corn on the cob at the Cobb Stop; authentic Mexican-made street tacos to go from Paco's Tacos; potatoes done up with a variety of styles and toppings at Papa's Patatas; and sausage on a stick.
Last, but certainly not least, are those sweet treats. There's so much variety that it's easy to please both little ones with hard-to-put-down Dippin' Dots (those tiny ice cream balls) and adults who might have a hankering for an ice-cold, made-from-scratch aguas fresca, in four different fresh fruit flavors. The Delectables Sweets & Treats stand is filled with ice-cream treats, and when the weather is warm, the flea market also sells the classic Icee frozen carbonated drink.
Cactus Cantina
Full-service, sit-down fare with imported beer & hand-crafted Micheladas.


Location:
1st Ave & B St.

Coop's Chicken & Chelada
Wholesome comfort food and specialty micheladas.
Location:
4th Ave. & L St.

Delectables Sweets and Treats
Treats for your sweets (& salty) tooth–ice cream to twisted taters.
Location:
2nd Ave. & K St.

Dippin' Dots
Delicious tiny "beads" of ice cream that come in a variety of flavors.
Location:
3rd Ave. & L St.

El Toro Rojo Bar
Bar with specialty margaritas, micheladas and imported beer.
Location:
1st Ave. & I St.

Freddie's Candy Land
Huge assortment of specialty candy and sweets.
Location:
4th Ave. & K St.

Icee
Frozen carbonated beverage in several delicious flavors.
Location:
2nd Ave. & D St.

L Street Bar
Bar with some of the best imported beer around.
Location:
L St. between 3rd Ave. & 2nd Ave.

Market Brothers Pizza and Subs
Delicious handmade pizza and artisan subs.
Location:
2nd Ave. & J St.

Market Carts
Everywhere you turn you can grab a bite to eat or quench your thirst.
Location:
Throughout the Flea Market

Michelada Stands
Handmade Michelada's and cold drinks.
Location:
Throughout the Flea Market

Mile High Mexican Express
The taste of authentic Mexican food to go!
Location:
4th Ave. and L St.

Paco's Tacos
Authentic handmade Mexican street tacos.
Location:
2nd Ave. & D St.

Papa's Patatas
Potato, patata! Try a potato any way you can think of.
Location:
2nd Ave. & D St.

Turkey's Last Stand
Famous secret-recipe grilled turkey legs and home-style waffle fries.
Location:
3rd Ave. & L St.
3rd Ave. & E St.