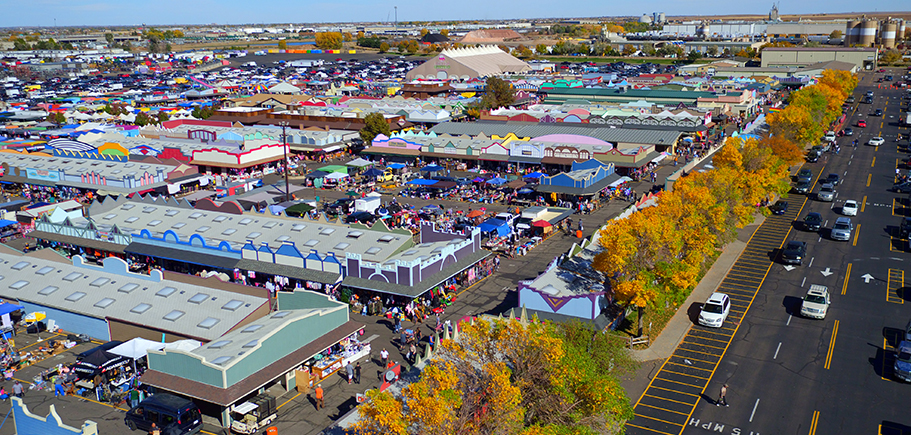 Shop, sell and spend the day.
Know before you go.  Before you come and spend the day at the Mile High Flea Market there are rules that we do not want you to be surprised by when you show up.   We want to ensure that you enjoy your time here and enjoy browsing the thousands of vendors, chowing down on the many different food options, because we know you cannot resist a turkey leg and being entertained by the live music and rides.
Important Information Before you Visit the Mile High Flea Market:
Parking:

 A large, accessible and free paved parking lot, with ample spots, is conveniently attached directly to Mile High Flea Market. Once you drive through the entrance gate, it's easy to park and enter through several open walkways near the retail shops. Safe crosswalks and close-in parking also make getting purchases back to your car a simple task at the end of the day. Need help? Just check out a shopping cart to haul your stuff, or simply ask one of our guest services staff to help you get to your vehicle.
Map: Pick up a detailed map either at the main entrance or at the Guest Services office building (I St at 3rd Ave), to help plan your day. Mile High Flea Market has many diverse areas to shop, including our famous flea market filled with bargains on the new and used items you want. There are also free-standing shops that sell a variety of items at discounted prices, plus a four-season farmers market, food and beverage carts, and sit-down restaurants. For a faster way to explore the whole flea market, you can now rent an electric scooter ($10 per hour).
Entertainment: There are many activities outside of shopping or selling at Mile High Flea Market. Our kids rides area, which we continue to add new features to each year, is very popular with families. There's also live entertainment throughout the facility, as well as big-screen TVs at Cactus Cantina (1st Ave and B St) so you won't miss any games.
Break time: You can stop for a nice meal at a sit-down restaurant, pause for a famous turkey leg at a food stand, and/or take a shopping break at All Hyped Up coffee shop. There are lots of resting places around Mile High Flea Market too: a waterfall, shaded tables near the farmers market, and convenient roundabouts where Mile High Flea Market streets meet, plus always clean, staffed and maintained restrooms.
No Pets: While we are pet lovers, pets are not allowed at Mile High Flea Market. Unfortunately, our market is not equipped to help you adequately care for your animal. While you will always have good time here, your pet will not. Our pavement gets too hot for paws, and we have no appropriate facilities for your pets. We appreciate your understanding and we ask that you leave all animals at home.